The "Park Avenue" Ultimate Tower of Treats in Red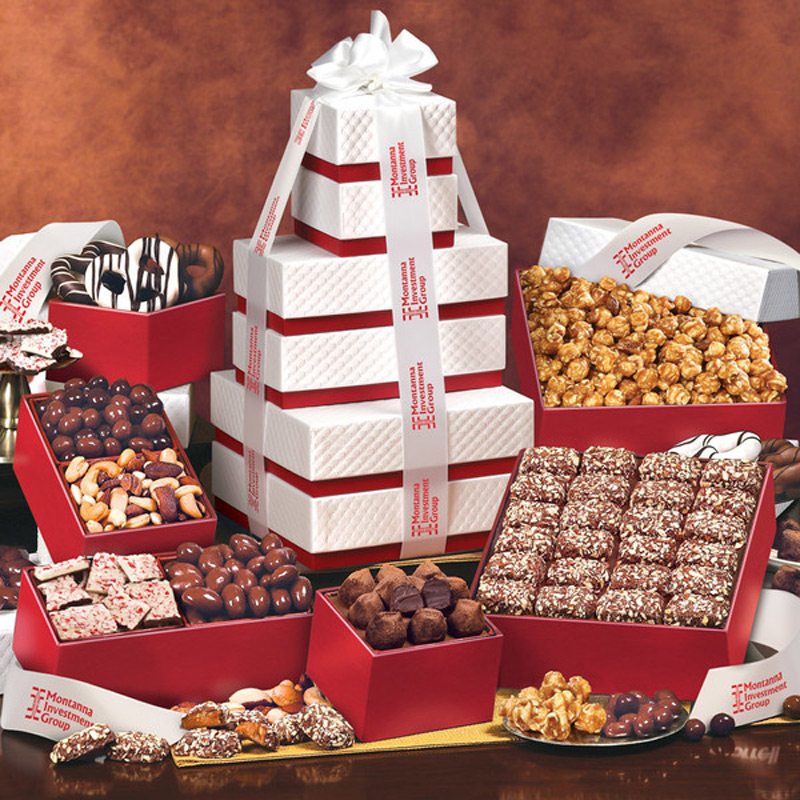 Request a fully customized quote
Here's a great way to show your appreciation and create some real excitement! Just imagine your customers or employees opening these rich "Park Avenue" style pillow-top boxes to discover this wonderful collection of premium confections... crunchy English Butter Toffee, smooth Cocoa Dusted Truffles, creamy Peppermint Bark, our famous Chocolate Covered Almonds and more. We foil-stamp your logo in red on white satin ribbon. They'll love you for sending this tower!
Product Dimensions
7.375"L x 7.375"W x 13.375"H
Imprint Includes
Price includes imprint foil-stamped in red on white ribbon.
Additional Notes I
Ingredients: English Butter Toffee, 11 oz. (24 pieces) Deluxe Mixed Nuts, 5 oz. Chocolate Covered Peanuts, 6 oz. Cocoa Dusted Truffles, 3.5 oz. (11 pieces) Milk Chocolate Almonds, 5 oz. Peppermint Bark, 5 oz. Chocolate Dipped Pretzels, 2.4 oz. (3 pieces)
Additional Notes II
Serving Size: 25
Additional Notes III
Packaging: Individual mailing cartons are included at no charge.
Additional Notes IV
Imprint Color: Red
Approximate Production Time
5 Working Days