Chocolate Covered Almonds in Navy Magnetic Closure Box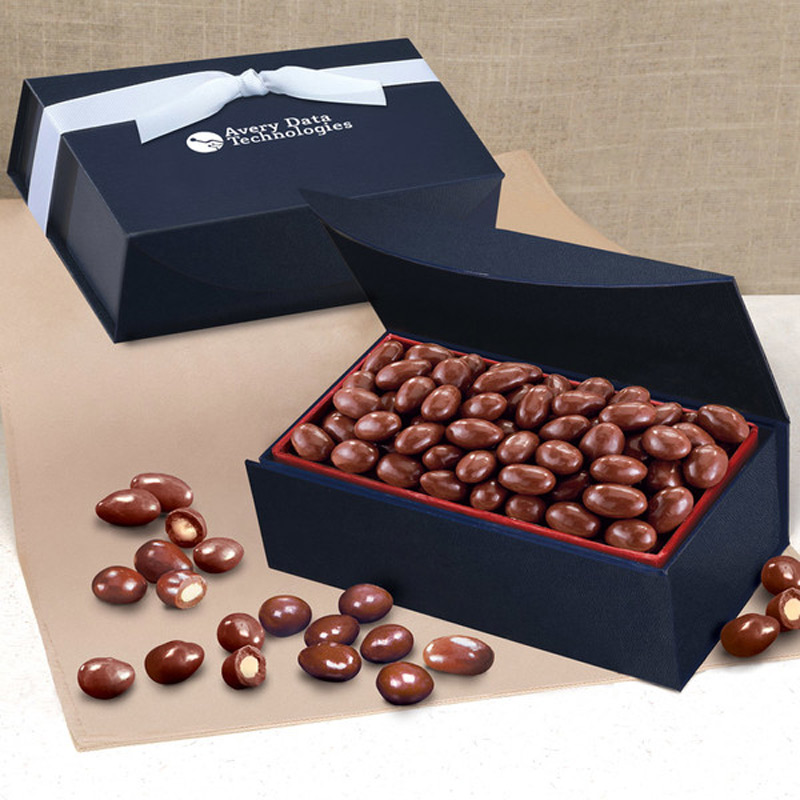 Request a fully customized quote
We'll tell you flat out: These are the finest Chocolate Covered Almonds we've ever seen. In fact, they're so superior to what you'll see in stores that your customers and employees will call or email asking where you found them. Colossal, freshly toasted California almonds are covered in rich chocolate! Over 75 come packed in this three-quarter pound navy blue magnetic closure gift box. The box is imprinted with your logo in white in the center of the lid, then we add a matching white grosgrain ribbon.
Product Dimensions
7.75"L x 4.125"W x 2.5"H
Imprint Includes
Price includes imprint foil-stamped in white on box.
Additional Notes I
Ingredients: Milk Chocolate Almonds, 3/4 lb.
Additional Notes II
Serving Size: 4
Additional Notes III
Packaging: Individual mailing carton is included at no charge.
Additional Notes IV
Imprint Color: White
Additional Notes V
Maximum size for enclosure cards: 6" x 3.5".
Additional Notes VI
Kosher
Approximate Production Time
5 Working Days