Spiral-Sliced Whole Ham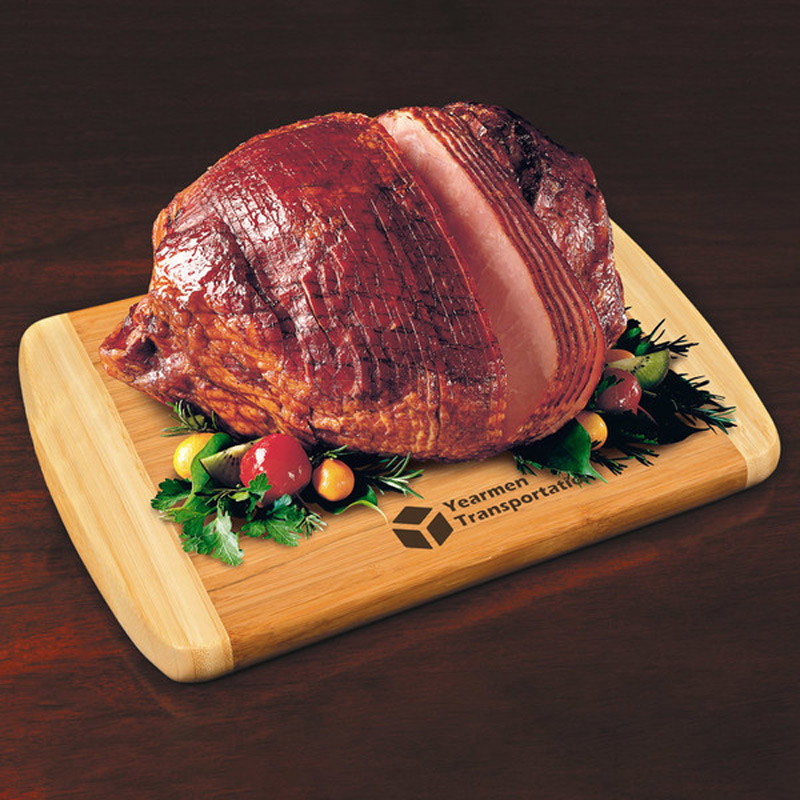 Request a fully customized quote
These hams are cured in a special blend of herbs and spices, then slowly smoked over hardwood embers for a full 24 hours, giving them a rare, mouth-watering flavor. Spiral-slicing right to the bone allows each slice to lift away easily (they'll love you for making it so simple), and when the lucky recipient takes the first bite, your gift will be recognized for its outstanding quality. Each ham is shipped with an eco-friendly Bamboo cutting board with your imprint.
Product Dimensions
12"L x 8"W x 0.75"H
Imprint Includes
Price includes firebranded imprint on board.
Additional Notes I
Ingredients: Spiral-Sliced Whole Ham, 12-14 lbs.
Additional Notes II
Serving Size: 24
Additional Notes III
Packaging: Price includes styrofoam insulated shipping carton.
Additional Notes IV
Imprint Color: Firebrand
Additional Notes V
Not available for foreign shipment. If Canadian shipment is requested, factory will substitute an appropriate item. IMPORTANT! Please note: from November 28 through February 27, we ship by UPS Ground to most locations unless in hand date requires expedite
Imprint Method
Laser Engraving
Approximate Production Time
5 Working Days