Keyring Alcohol Breath Tester with Flashlight
Item #
SP-235-AD-525-1706399150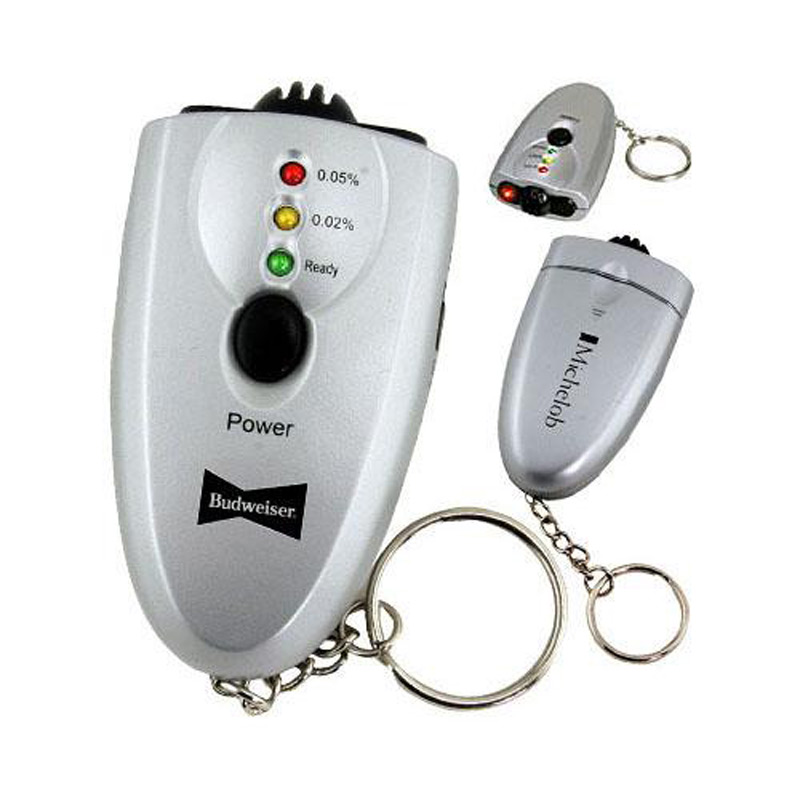 Request a fully customized quote
Our Alcohol Breath Tester will help you make better decisions about driving after consumption of alcohol. Easy to use breathalyzer function measures blood alcohol concentration (BAC). Blow into the top of the unit and within seconds colored LED lights indicate your BAC: Red - .05%+ - likely impaired; Yellow - .02% to .049% - warning; Green - <.02% - none indicated. Also features key ring with built-in bright red LED flashlight and auto shut-off for battery conservation. Metallic silver finish with black trim. Requires two AAA batteries not included. Gift boxed. WARNING! This device is intended for simple measurement of blood alcohol content. It is not a precision instrument for measurement and should not be relied upon for any individuals suitability to drive or participate in any activities. CAUTION: The indication of this alcohol tester gives BAC for reference only, manufacturer does not take any legal responsibility.
Product Dimensions
1 1/2"w x 2 7/8"h x 13/16"d
Additional Notes I
Packaging: Gift Boxed
Additional Notes II
Requires two AAA batteries not included.
Additional Notes III
2 AAA batteries. $.80(F)/set.
Approximate Production Time
7-10 Working Days